This year has been an exploration of a couple of new platforms for me since we had to transition to online-only courses. Most of my courses were already using online tech pretty heavily so the transition was an opportunity to try some more extreme ideas.

Like many, I had to figure out a good work-from-home office set up and invest in a new webcam, and, along with that, I checked out a couple of apps to add special effects or that let me mix in multiple video feeds to a virtual camera that is fed into Zoom. Namely, I use XSplit VCam which lets me use a custom background, its settings more flexible and reliable than Zoom's built-in one, and OBS and ManyCam to let me do things like picture-in-picture. Oh, and also an app called APowerMirror to let me plug my Android phone into my computer and mirror its screen on my monitor, which could then be used as a video source for ManyCam and OBS.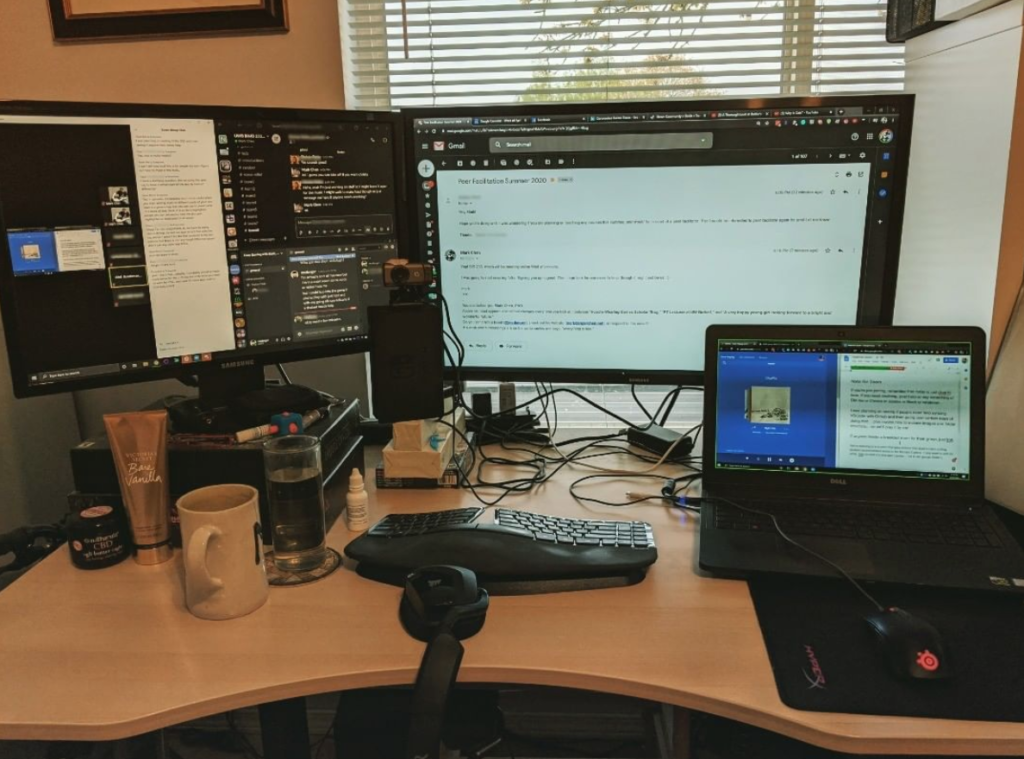 The most extreme thing I'm exploring is meeting students in games and virtual worlds instead of or alongside Zoom, as my course on interactive media sort of lends itself to experiments in said media. I've tried World of Warcraft, which sort of works but also sort of doesn't work in that the novelty might be getting in the way of doing anything productive. I'm also torn about whether to make it an official meeting place. The free version is sufficient, but it's still a sizeable download, and I'm not sure if it's reasonable to ask students to install it on their laptops or desktops, and anyone using a phone to connect would be out of luck, unfortunately… This summer, I'll probably start with a poll to see what people have access to.
"Most of the optional days feature just a Pandora music station to have in the background sort of like a virtual coffee shop where we're all doing our own things…"

Mark

I've also tried to just stream from within a game on Zoom, attempting to play a game that doesn't take 100% attention to attend to while discussing readings or other topics for that week. This has mostly been used once in a while during our optional Zoom days (for my courses this quarter, I've only been making one day a week the official meeting time and reserving the other day as virtual office hours). Again, we're not really "working", but for the students that show up, it seems to be a welcome diversion from everyday crap. Most of the optional days feature just a Pandora music station to have in the background sort of like a virtual coffee shop where we're all doing our own things, and there's a small handful of students who seem to join every week for that.

Surprisingly, my courses this Spring Quarter seem to be doing quite well, maybe because of these things that I'm trying to do to build community, but also probably because they've been more vigilant reading emails and structuring their lives around the milestones and synchronous class times, etc. I've been trying to stay in communication with them frequently and being transparent about course decisions and adjustments and emailing individual students who seem to need more help than others, etc. Also, the web course I teach, in particular, is benefiting from the Zoom format with me and various students sharing our screens to troubleshoot code; it seems to work better than doing it in a classroom setting.
Other than those things, I'm still doing the same things I tried last year: using Slack and hypothes.is for online discussions and having students in my web design course register their own domain name with Reclaim Hosting.
This year, we've had to face many adjustments, using our care and diligence for our students to guide us. This is true for every year, of course, and I'm continually mind-boggled that some people feel like online instruction is easier or not worth as much as face-to-face instruction. Certainly, there are some courses and disciplines that require in-person interactions (and next fall will be a challenge as I teach an ethnographic fieldwork course!), but I'm pretty adamant in thinking that even though we're using an online-only format, we're for the most part still serving students to a rigorous standard that I think UW is rightly proud of upholding.