Fireside Guest – Mike Caulfield
Research Scientist, Center for an Informed Public at University of Washington
Before joining the iSchool in his current position he was the Director of Blended and Networked Learning at Washington State University, Vancouver. He has focused on misinformation and disinformation as created some amazing open resources for students and faculty around those topics. He has given a number of presentations and has some written work at Educause. He shares some video here and his Information Hygiene site is used by many students and faculty.
---
Becca
I'm in the midst on commenting on drafts of students' scientific papers. I'm seeing the normal sticking points–how to develop arguments in the Discussion. My epiphany from our conversation with Mike is a new way to describe how to write Discussions. Mike describes knowledge as a process and a network; he says that knowledge isn't about seeing the result in front of you, but it's instead a social construct that is as reliable as the social processes that produce it. The goal is for students to look at what a wide variety of people think about a topic, and then synthesize across that. We can use as a metaphor how to read the room: if you walk into a room and everyone's talking deeply about something, you don't jump right in. You assess what folks are saying/thinking/how they're reacting. That's what scientists do when they write a Discussion–that's how students contextualize and interpret the results they found. So, it might help students to think about how they would you group the articles they found–who's standing over here, and who's standing over there? Mike recommended a couple of sources: Graph and Birkesnstein They say, I say and Naomi Oreskes Why Trust Science. Both of these are now on my list.
Susan
Mike's recent work has focused on how to combat digital disinformation by developing skills for critical consumption of information obtained online. He described how he sat at the back of a classroom and watched as students performed an exercise where they were asked to check out a website. He observed that 75-80% of students did not research the site, they just clicked and read. His epiphany was that this is what students are trained to do–they're/we're given something to read and we do it–we don't question it. If we want them to be more critical of internet sites, we need to teach that same critical thinking around everything we teach. (He mentions Sam Weiberg and SIFT: lateral reading. Here's a link to a recent article: DOI:10.1177/016146811912101102).
Mike's epiphanies:
Learning is networked. Becca really nicely addressed the notion of learning being networked, with knowledge as a social construct. I love this because I think it's exactly what scientists do ALL THE TIME. It may look like arguing, but that is part of the passion of discovery (and the game). In my first year course on Viral Epidemics, we discussed how scientists know about viruses–they have used filters to separate them by size from bacteria and other cells (microbiology), they used visualization methods like electron microscopy, they use antibody tests (immunology) or molecular tests (molecular biology), they used the symptoms of disease (medicine), and they observe the way that disease spreads (public health and geography). All of that learning from different disciplines is then networked so that  the CDC and WHO scientists and expert advisors can formulate policy based on the science. Many people think that scientists change their mind all the time. They may change their minds, but it is in the light of new data, not capriciousness–at least when it works reasonably well. And it is important for them to be able to change their minds. I hope that enough of my students understood this to help their generation navigate through the next pandemic.
Be the person at the back of the room. Watch what students regard as authoritative or not. Ask students to describe what they do. (I felt some pride here, as I think we are pretty good at this at UWB.)
Look at the issue from multiple different directions. Check!
Learning is iterative. Go to workshops & conferences, participate in our learning community to keep on learning and changing. Mike mentioned his book, A Citizen's Guide to the Internet: How to get fooled less, reclaim your attention and make better decisions online. (Will students read that entire title?)
My reflections: 
I think about the things that Mike described essentially all of the time and imagine that most of us who teach do. I was primarily a researcher for a very long time–it is so ingrained in my neural networks that I cannot imagine NOT checking out every internet resource I use (and YES, it takes a lot of time!). But students don't have that deep research background. It takes reading skill, time and practice to develop. I try to remember that and to find ways to practice these skill in a scaffolded series of exercises, iteratively and will continue to work on this.
It made me feel optimistic to think that we are all part of this learning network, and students will get support on this practice from multiple courses and disciplines. It's important, because our students are the future.
And I plan to read Mike's book, and the books that Becca provided links for soon!
It was very cool to have two librarians in with our group today!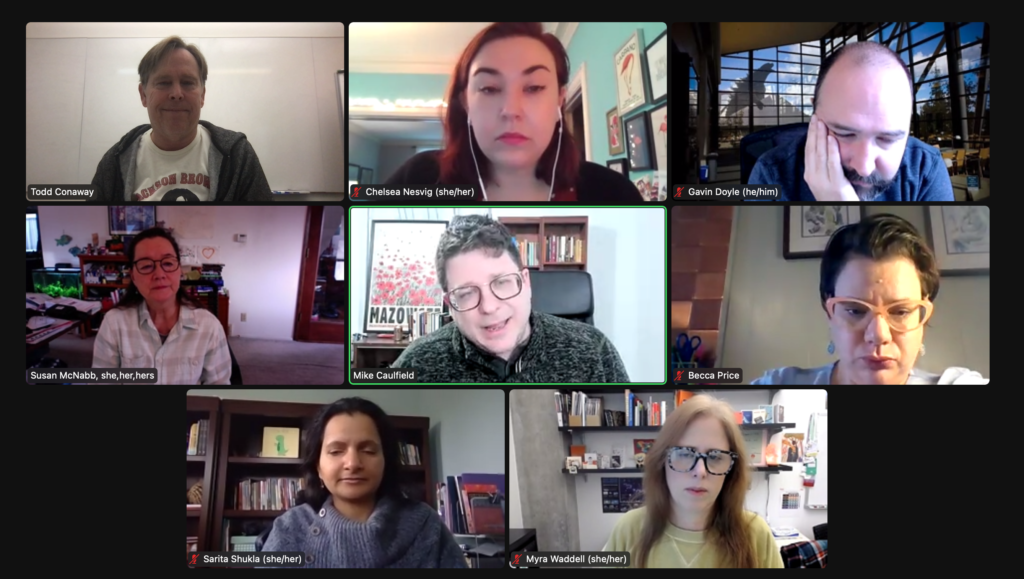 Chelsea
So much to process around students and source evaluation! Here are some highlights. Mike had lots of quotable lines…

He mentioned that we often (wrongly) guide students toward "an individualistic epistemology" in regard to source evaluation – they think they need to evaluate sources in a bubble and judge a single source by looking at that source only 

The goal is to have students "wander into the trees of knowledge and see the forest" – meaning, be able to pull together several sources on a topic and summarize what is known/what isn't known, etc. – relates to the idea of "reading the room" – used the metaphor of joining a conversation at a party. What's being said here? The need to go out and find what other people have said about an idea. 

The key to teaching source evaluation better and improving student learning is understanding *how* students process source evaluation vs. just knowing if a source is credible or not. Why is it credible? What led you to that conclusion? 

Consider bottom up processes vs. top down "methods" for source evaluation

Chelsea's perspective: Teaching source evaluation is slow, deep work – can't be done in an hour

Myra asked a great question about how to connect Mike's source evaluation work to habits of white language – he shared ideas about trust coming from social processes vs. scientific process and framing knowledge around someone being in a "position to know" vs. straight "expertise" – also mentioned that his early work had connections to feminist pedagogy

I liked what he said about talking to students about source bias and countering that with whether a source has an agenda – "bland can be good" – used the American Medical Association site as an example – they have reasons to provide credible evidence and not make outlandish claims

Who has an incentive to be careful with the truth – professors in professional discourse networks do, for example – but some people don't
If we'd had more time, I'd like to have asked about how he considers the source eval expertise from everyday life that students bring into the classroom – related to this article – and also relating to what he mentioned around where students get the bad ideas they have re: source eval (.orgs are better, https lock sites are better, etc.) – are they getting it in high school?! – where do they have expertise and where don't they and how can we build on what they know?
Sarita
Mike problematized several ideas in education and gave us so much good food for thought. The one caution that Mike shared was to understand knowledge that comes from different sources. As someone who tries to apply this in their own practice and curriculum, Mike's articulation of the differences between experts versus folks who are in a 'position to know' was particularly poignant. Experts in any field bring in knowledge because of their learning in the discipline. A scholar's understanding of their subject area and their 'knowing' might be seeped in their study of other scholars' contributions. Their 'reading of the room' comes from studying and engaging in dialogue within their disciplinary scholarly community. While this form of knowledge does have value, this might also create a myopic view for experts because the lived experiences of folks might be different from the expert stance. This creates a tension but this is a good tension for if a scholar believes that lived experiences do not hold value then there is the danger of them imposing their understanding and to perpetuate understanding that disregards lived experiences.
While experts do have an incentive to be careful with the truth, undermining understanding that comes from lived experiences also indicates a lack of regard for experiences that could not make it to 'scholarly sources' because of scholarly gate-keeping and devaluing of these other forms of knowledge.
In my work as an instructor that centers anti-bias teaching practice, this reminder to lean into knowledge forms that are not conventional and always scholarly is particularly meaningful.